....except not quite.
One thing I love about teaching is getting to revisit old favorites from my own undergrad days. When my 2nd years last year indicated they wanted to do some philosophy of math this year, I knew exactly what book to go to -- Stewart Shapiro's
Thinking About Mathematics
, which I had as a textbook in Mike Byrd's grad-level philosophy of math course. (This will not be the first time that I'm teaching undergrads things I either got in a grad course or have previously taught in a grad course. I'm working under the assumption that if I don't tell them this is hard, they won't know. So far, it's working beautifully.)
We're starting this topic next week in seminar, so today I spent the day curled up reading a book and taking notes. It feels like being an undergrad again, the entire process is one that I don't often have to do any more (particularly this year, I have rarely had to do any teach prep earlier than about 1-1.5 hours in advance of when I teach. Reading something almost a week in advance and taking notes is uber-preparation for me!)
One thing I love about teaching from books I used as an undergrad is seeing all my notes from that era. The name/date in this book is from almost exactly 15 years ago -- January 2002. It's not as heavily annotated as some, but there is one page where the entire margin is covered in a rant against intuitionism: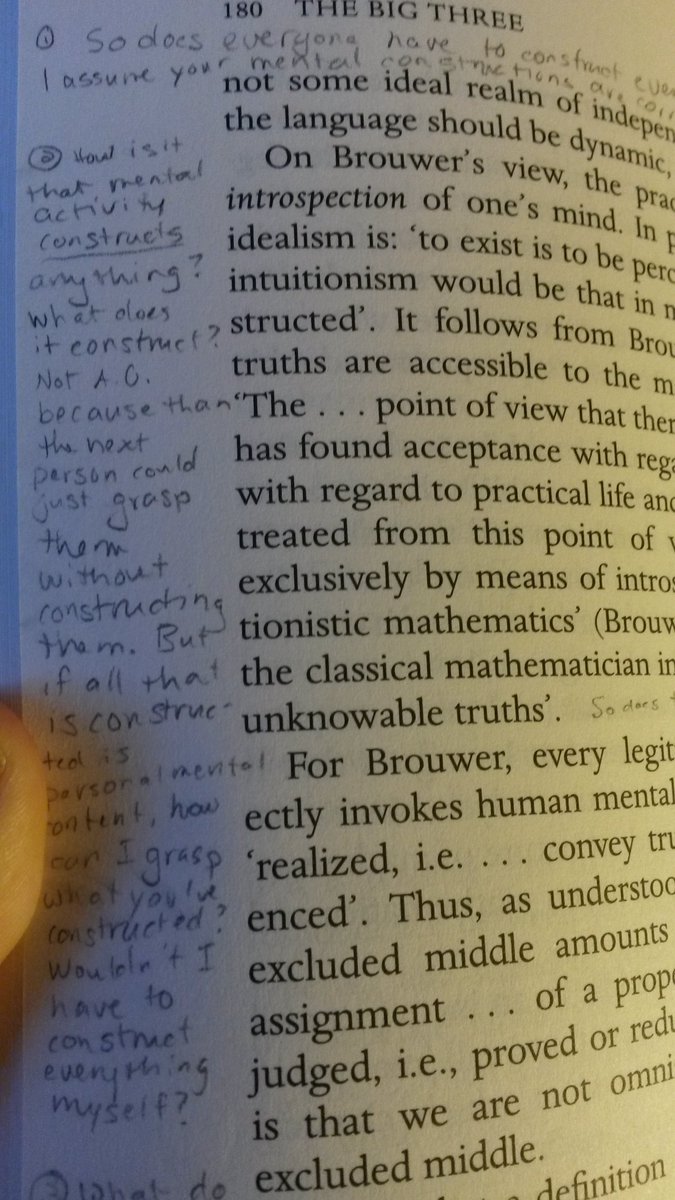 And in another place you can tell from the non-verbal notes alone the strength of 20-year-old me's realism: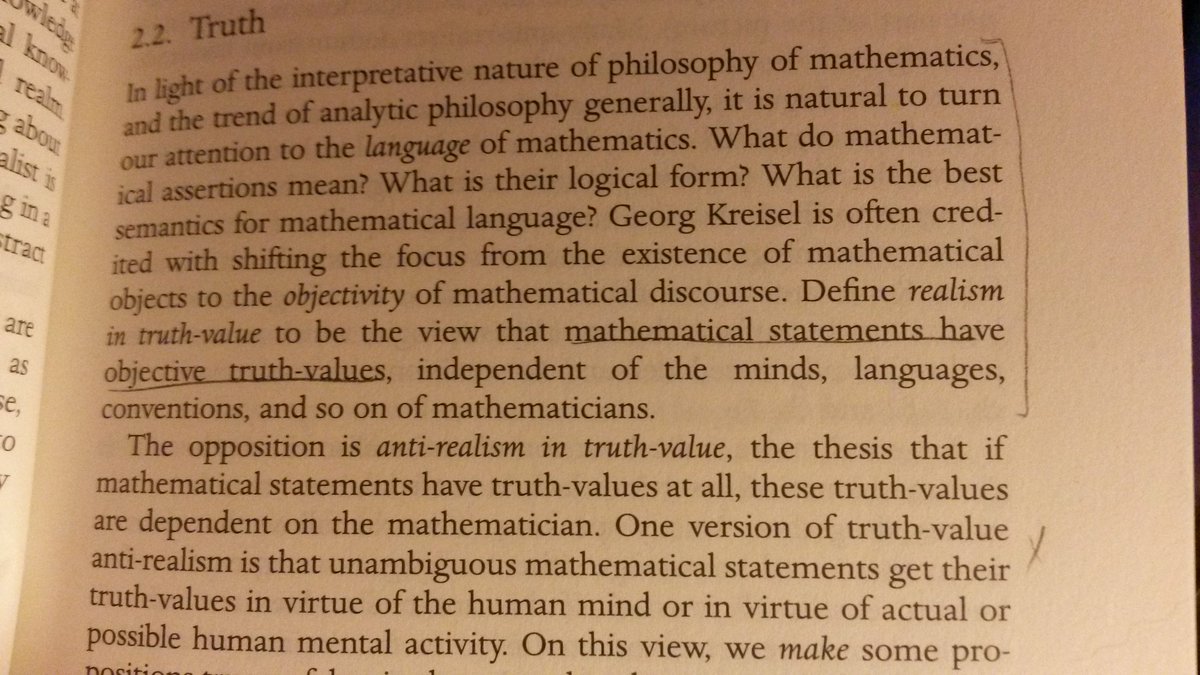 Sometimes I still agree with 20-year-old me's comments, sometimes my views have tempered a bit over time.
It does feel very much like being an undergrad again, except not in one very specific way. Poor Gwen had a cough yesterday that developed into an awful chesty phlegmy thing overnight, and then woke up crying "my ear hurts!" and a bit later "my heart hurts!" so we took a trip down to the doctor in the morning. The diagnosis was viral, so plenty of rest prescribed. Since I'm still feeling under the weather myself, we've both spent most of the day in bed watching movies (and look over, I think she's now on to her second nap).
I think 20-year-old me would've been pretty pleased to find out that 15 years later, I not only get to read the same things that enthused and inspired me then, but they still enthuse and inspire me now, and not only that, I get to touch them as they were taught to me, and not only that, I get to do it while cuddled up in bed, sick kid in one arm, cat in the other. Okay, she probably would've preferred the kid to not be sick, but if the choice is between sick kid and no kid, I'll take the sick kid any day of the week.